Dr. Snehal Sheth DDS - Stony Brook Cosmetic Dentist
Dr. Sheth prides herself in providing painless comfortable dentistry and devotes her professional career in all phases of General Dentistry in the heart of Stony Brook at Stony Brook General & Cosmetic Dentistry.
Stony Brook General & Cosmetic Dentistry (SBGCD) offers many services including invisalign, teeth whitening, veneers, crowns, fillings, implant restorations, dentures, "all on 4", root canals, extractions and cleanings.
Snehal Sheth, DDS
Skill and compassion go hand in hand when providing exceptional patient care. Personally, I am caring, talented and compassionate professional. I stay up to date on the latest advancements in dentistry in order to provide the most current treatment options for my patients and committed to provide the highest quality of dentistry to my patients.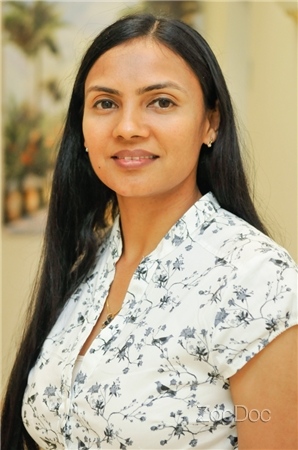 As a doctor, I recognize that my patients are unique individuals who have placed a great deal of trust in me and my team. That is just one reason why I value each and every patient relationship.
I would like to share my background with you:
• Graduated from NYU, College of Dental Medicine.
• Being top of my class, admitted to OKU honor society
• General Practice Residency at Stony Brook Dental School & Hospital
• Extensive training all aspects of General Dentistry and in implant restoration
A Message From Dr. Sheth:
"I would like to personally welcome you to my office. I love my profession and always set high standards for every aspect of my practice. From the state-of-the-art equipment to numerous levels of infection control, I am committed to providing you superior service and individual attention.
My goal is to restore and enhance the beauty of your smile using comprehensive treatment approach. The result – a fusion of esthetics and function for a beautiful, unique, and long lasting smile. I focus on quality of care and always try to exceed my patients' expectations.
I make sure to discuss with my patients their concerns and objectives. Such discussion enables me to present a patient with a customized comprehensive treatment plan that addresses individual dental needs and prevents emergency situations. I treat all my patients with a gentle touch as if they were my friends or family. I hope you will enjoy your visit and I will try to address all of your dental needs. Welcome!"
Sincerely,
Dr. Snehal Sheth, DDS
Stony Brook General & Cosmetic Dentistry, Stony Brook, NY
Dr. Sheth is a member of:
· American Dental Association
· New York State Dental Association
· Suffolk County Dental Society
· Academy of General Dentistry
· OKU National Dental Honor Society